Designers and Builders of Custom Hydraulic Assemblies
Engineering expertise is essential for the production of efficient, economical hydraulic power units and manifolds. As hydraulic specialists we offer prompt professional response to your needs, from concept to start-up. We will design and build power units and Circuit Blok® manifolds to your system requirements and physical needs.
Quality Assurance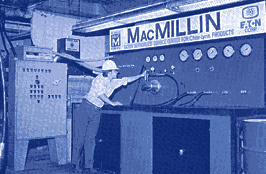 At MacMillin we prove every power unit and every circuit block we build. We set pressure and flow, and test for valve performance. You can rely on MacMillin proven engineering.
MacMillin offers factory parts and service on components and accessories. In addition, MacMillin has been selected as an Eaton authorized service center for Char-Lynn products.

For one or a hundred manifolds, for a standard or totally engineered system, for quick turn-around on prototypes, rely on MacMillin. When you need power units or manifolds, put over 40 years of MacMillin experience to work for you.
| | |
| --- | --- |
| | Vertically mounted power units are used in such diverse applications as lubricating systems, broaching machines and vertical conveyors. The model shown here is a 1.5 hp unit with a capacity of 1-1/4 gpm and is equipped with a "Circuit Blok" manifold and integral canister type filter. Reservoir has a capacity of 7.5 gallons. Other sizes available to 20 gallons. |
| | An adhesive mixer is powered by this hydrostatic variable drive power unit with top mounted reservoir and filter package. The system inludes panel with remote control. |
"Circuit Blok ®" Manifolds Eliminate Troublesome Hydraulic Plumbing
The MacMillin engineering team will analyze your system problems and design a reliable economical solution -- a manifold that fulfills your exact needs.
MacMillin "Circuit Bloks"® eliminate one of the primary causes of system failure, leaking and broken hose and pipe connections.

With MacMillin "Circuit Bloks"® many valves and controls are plugged In to a single space-saving manifold.

It takes experience and know-how to provide "Circuit Blok"® prototypes in weeks rather than months. You can rely on MacMillin.